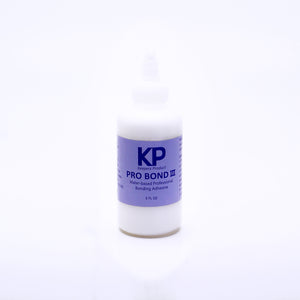 Keepers Product
KP PRO BOND III - Water-based Liquid Adhesive (5oz)
Regular price
$ 50.00
$ 0.00
KP PRO BOND III™ is a nontoxic water-based professional bonding liquid adhesive suitable for perimeter & full head attachment. 
Easy to apply: The adhesive's viscosity and consistency is optimized for an easy to squeeze and brush-on user-friendly experience.
Directions: The white aqueous adhesive dries clear.  Apply 3-4 coats of the adhesive on the scalp and then attach the lace unit to the scalp when the adhesive dries to a tacky consistency.  If using tape, adhesive may be applied to the tape to reinforce the bond. 
Long Lasting bond holds for 2-4 weeks and can be easily removed with our compatible KP DuoSolv or KP Lace Release.
Nontoxic Guarantee: This adhesive is made of water-based copolymer acrylic. This product is free of latex, formaldehyde and carcinogens such as, toluene, benzene, and naphtha. PB3 is compliant with FDA regulation 21 CFR 175.105 standard. 

*Also available in 2 oz size.
What people are saying about Pro Bond III:
"

I use it every day over my tape I take my unit off every day. Keepers products Lace release, pro bond III. I have been wearing hair unit for over 40 years.

" -Barry
"Very strong, I like to thin the glue out with a drop of water and line my hair line with the glue. I add my lace front and the glue sticks. Very secure. I like it." - Pamela
---
Share this Product
---
More from this collection