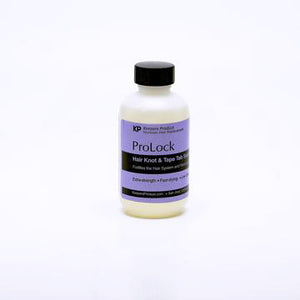 Keepers Product
KP PRO LOCK - Hair Knot & Tape Tab Sealer
Regular price
$ 18.00
$ 0.00
KP PRO LOCK™  is a professional use only hair knot and tape tab sealer that extends the life of the hair system by fortifying the hair system which reduces hair loss and shedding. This new formula is low-odor, boasts extra-strength and is fast drying. Pro Lock is engineered to improve the comfort of both the stylist and the hairwearer's experience.
In a laboratory experiment, it was revealed that the adhesion power of KP Pro Lock fortifies a strand of hair to support up to 10,000X its own weight! Use KP Pro Lock on new and recently washed hair systems to prevent hair knots from coming loose when brushing and styling.
Directions: Spray KP Pro Lock evenly on the inner side of the base to strengthen the delicate hair knots. KP Pro Lock conditions the tape surface to enhance adhesion strength. It can also be applied on hair to strengthen the hair for styling.
Nontoxic Guarantee: This product is free of latex and carcinogens such as toluene, benzene and naphtha.  
*Available in 4 oz size.
* Please note that this product is only available for US Domestic ground shipping due to flammable content.
What people are saying about Pro Lock:
"Great product! Really extends hair system life span and reduces shedding. Will repurchase again." - Mark
"Much less smelly than other knot sealers which is great for my small office. Dries fast too...!!!" - Diane
---
Share this Product
---
More from this collection